Professor Sujeet Jha is Director of the Institute of Endocrinology, Diabetes and Metabolism at Max Healthcare, one of India's leading private healthcare providers. He will act as Principal Investigator, India North and Steering Committee Member of the unit, working on the surveillance, defining risk relationships and frontline worker interventions projects.
Dr. Jha has over 20 years of clinical experience delivering high quality care to a large volume of outpatients and inpatients from all over the country. Atypical and gestational diabetes, metabolic disorders, complex thyroid dysfunctions, young onset hypertension and wide range of pituitary disorders also constitute his practice. His development of patient education programmes training almost 500 Diabetes Educators through IDF's Project Hope and telemedicine diabetes care for remote care have significantly improved patient outcomes.
Dr. Jha completed his MBBS in Bihar, India post which he trained in the UK for 10 years, including post graduate training in Endocrinology, Diabetes and Metabolism and FRCP. His research efforts include investigating epigenetic markers for CVD and T2D (Epi-Migrant study), prevention of T2D (iHealth-T2D study) and GDM through intensive lifestyle modification, identification of MODY 2 gene mutations in GDM and MODY screening in young diabetics.
Max Healthcare, India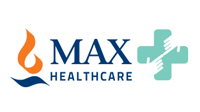 Max Healthcare, delivers international class healthcare with a total service focus, by creating an institution committed to the highest standards of medical and service excellence, patient care, scientific knowledge, and medical research. Max Super Speciality Hospital, Saket (a Unit of Devki Devi foundation) is one of the premier names in the healthcare world. Max Healthcare is a network of 15 hospitals in India with over 2300 beds that offer treatment across 29 specialties such as Cardiology, Oncology, Neurosciences, Endocrinology, Diabetes and Metabolism, Obstetrics and Gynaecology.".