Ranjani Harish has a doctorate in Community Nutrition (Public Health Nutrition) from University of Mumbai, India and she is a Certified Diabetes Educator (CDE). Her research areas include Public Health, Epidemiology and Translational Research. In 2016, she underwent specific training on mhealth research at the Global mHealth Research Training Institute, Fogarty International Center, Center for Global Health Studies, National Institutes of Health, Bethesda, MD. She is currently the Sr. Scientist & Head – Dept. of Translational Research at Madras Diabetes Research Foundation (MDRF) (www.drmohansdiabetes.com). In this role, she has developed and implemented large population-based studies: (1) investigating the prevalence of diabetes and obesity in children and adolescents namely, Obesity Reduction and Awareness and Screening of Non-Communicable Diseases through Group Education in children and adolescents (ORANGE – Phase I & II) (2) in the design and delivery of lifestyle based intervention/education programs, namely, Diabetes Community Lifestyle Improvement Program (D-CLIP).
Her other research projects have included research on contemporary topics such as role of built environment in physical activity/inactivity among adolescents, PCOS and other metabolic disorders among adolescents. She is also the co-investigator in two prevention projects one studying the role of yoga in adolescents and the other, an implementational trial (NIH RO1) for the prevention of diabetes and cardiometabolic diseases at workplaces in India. She has been the Co – Investigator on two RCT's which evaluated the role of mhealth in prevention and management of diabetes and cardiometabolic risks. Besides writing many free press articles in national daily's and magazines, regularly reviewing articles, she has over 55 peer-reviewed publications including chapters to her credit and has delivered over 80 lectures on role of healthy lifestyle in the prevention and management of chronic diseases across various public platforms.
Dr. Ranjani H, will largely contribute to the Digital Health intervention component of the NGHRU project.
https://www.researchgate.net/profile/Ranjani_Harish
Madras Diabetes Research Foundation, India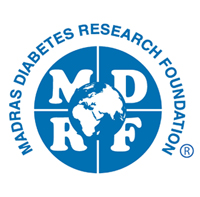 Madras Diabetes Research Foundation (MDRF), a unique 100% non-profit foundation, is an outstanding research centre established in 1996 in Chennai, South India. It is committed to research on diabetes and other non-communicable diseases utilizing the most advanced technology available. MDRF is designated as ICMR Centre for Advanced Research on diabetes and, a WHO collaborating Centre for Non-Communicable Disease, Prevention and Control. The foundation performs state-of-the-art clinical and biochemical techniques and computing skills making it one of the most advanced centers for diabetes research in Asia.