Dr. R.M. Ananja, is the Managing Director of Dr. Mohan's Diabetes Specialities Centre which is a WHO Collaborating Centre for Non Communicable Diseases Prevention and Control and an IDF Centre of Excellence in Diabetes Care. She is also the Vice President of the Madras Diabetes Research Foundation, which is an ICMR Centre for Advanced Research on Diabetes. Her main research areas are prevention of diabetes, epidemiology, physical activity and translational research and metagenomics. She obtained her MBBS in 2002 first class with distinction and MD in 2007. She has also obtained Diploma in Diabetology with distinction from the University of Cardiff (UK) in 2010 and has been awarded the Ph.D. degree from the Madras University in 2013.She has been conferred with the prestigious Fellowship of the American College of Physicians (FACP)from the American College of Physicians and Fellowship of the Royal College of Physicians (FRCP), Glasgow, Edinburgh and London and recently she has been conferred with the Fellowship of the Indian College Physicians (FICP). She has published over 185 papers in prestigious national and international peer reviewed journals. She has also participated and given lectures in several national and international conferences and programmes on diabetes, non-communicable diseases and cardiovascular epidemiology.
Dr.Anjana has received several awards to date from various national organizations including the prestigious Dr. Leela Krishnamoorthy Award from the Indian Association of Biomedical Scientists (IABMS). Dr Anjana has been awarded several prizes including the"Young Outstanding Women Achievers Award" by the Tamil Nadu Dr. M.G.R Medical University, and the Young Innovator Award at the Indo-UK Diabetes Summit organized by Indo-British Health Initiative (IBHI) and the British Deputy High Commission Dr Anjana is the National Co-Principal Investigator of the Indian Council of Medical Research – India Diabetes (ICMR-INDIAB) Study, a large epidemiological study with a total sample size of 124,000, which will, for the first time, provide representative, population-based data on the prevalence of diabetes and pre-diabetes in India. She is also Co-Principal Investigator of the Mobile Health Technology for the Prevention of Type 2 Diabetes (mDiab Study), which aims to implement and evaluate the effectiveness, cost-effectiveness, and sustainability of a reality TV based diabetes prevention program administered through a mobile phone application and of the Worksite Lifestyle Program for Reducing Diabetes and Cardiovascular Risk in India. Dr.Anjana will be contributing to the Digital Health intervention component of the NGHRU project
Madras Diabetes Research Foundation, India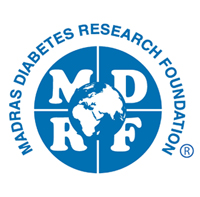 Madras Diabetes Research Foundation (MDRF), a unique 100% non-profit foundation, is an outstanding research centre established in 1996 in Chennai, South India. It is committed to research on diabetes and other non-communicable diseases utilizing the most advanced technology available. MDRF is designated as ICMR Centre for Advanced Research on diabetes and, a WHO collaborating Centre for Non-Communicable Disease, Prevention and Control. The foundation performs state-of-the-art clinical and biochemical techniques and computing skills making it one of the most advanced centers for diabetes research in Asia.