Samreen Siddiqui is a Research Manager at Max Healthcare, with an experience of over 6 years in handling national and international clinical and public health studies. Samreen holds an MSc in Clinical Research from Jamia Hamdard University, New Delhi, India. She has submitted her Ph.D. thesis, completed under the guidance of Dr.Sujeet Jha and her work was based on identifying Glucokinase gene variants in North Indians affected with Gestational Diabetes Mellitus.
Within the GHRU, she is the Training Lead Delegate and responsible for coordinating the GHRU training requirements and capacity-building activities. She is also responsible for coordination of the Surveillance project, quality monitoring and sample management in India North.
Samreen's research interests include non-communicable diseases management, underlying genetic mechanisms and community health.
Max Healthcare, India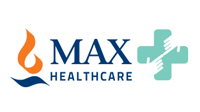 Max Healthcare, delivers international class healthcare with a total service focus, by creating an institution committed to the highest standards of medical and service excellence, patient care, scientific knowledge, and medical research. Max Super Speciality Hospital, Saket (a Unit of Devki Devi foundation) is one of the premier names in the healthcare world. Max Healthcare is a network of 15 hospitals in India with over 2300 beds that offer treatment across 29 specialties such as Cardiology, Oncology, Neurosciences, Endocrinology, Diabetes and Metabolism, Obstetrics and Gynaecology.".