Dr Sajjad Ahmad is Associate Professor of Cardiology, consultant physician and interventional cardiologist at Punjab Institute of Cardiology, in Lahore. Dr Sajjad holds a FCPS in Medicine and a FCPS in Cardiology.
Dr Sajjad has an extensive research portfolio and his research collaborations include Epi-Migrant and iHealth-T2D, both European Commission funded projects.
Sajjad research interests include cardiovascular epidemiology and genetics.
Punjab Institute of Cardiology, Pakistan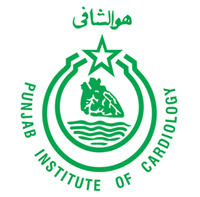 Punjab Institute of Cardiology (PIC) is a Punjab government run hospital specialised in tertiary care and treatment of cardiac diseases. PIC, originally named "Cardiac Centre", was inaugurated on the 15th of October 1988. PIC acts as a reference and resource center for institutions in the field of cardiology and cardiac surgery and provides administrative and technical support to other cardiac hospitals in the province. PIC also offers four years degree programs in the field of Medical Laboratory Technology and Cardiac Perfusion.