Dr. Radha Venkatesan, is the Executive Scientific Officer and Head of the Molecular Genetics department which she started in Madras Diabetes Research Foundation, Chennai, India in the year 1999 and has been working in genetics of diabetes research for 18 years. Her major scientific field of interest is Human Molecular Genetics. She has a wide experience of teaching and guiding PhD students. She is a recognized guide in Madras University for PhD programme.
She obtained her doctorate degree from University of Madras. During her doctorate programme she was trained on Molecular Biology techniques at Prof. Weatherall's Institute at John Radcliffe hospital, Oxford, England. She was a recipient of UGC and CSIR National level scholarships at both Doctorate and Post Doctorate level. She has had extensive training in Genomics and Functional Genomics of diabetes from Steno Diabetes Research Centre, Denmark, Copenhagen, Genentech, University of Minnesota and Oregan State University and Hospital, USA.She is a member of Indian Society for Human Genetics(ISHG) and Research Society for Study of Diabetes in India( RSSDI).
She is a recognized guide for PhD degree by the Madras University, Chennai, India and under her mentorship 10 students have been awarded Doctorate degree. Her main areas of Research are genomics of monogenic and polygenic diabetes and its complications, functional genomics,epigenetics and metagenomics . She has been the Principal Investigator and Co-PI on more than 15 projects in genomics of diabetes awarded by Indian Council of Medical Research ,Department of Biotechnology and Department of Science and Technology, Government of India. Her lab is recognized as Advanced Centre for Genomics in Diabetes and as a Nodal Centre for Screening of Neonatal Diabetes and Monogenic Diabetes in India. Her study in genomics of monogenic diabetes is turning to be a reference point in the country. She has many scientific collaborators at the National and International level. She has to her credit about 75 original papers and about 15 book chapters in the fields of genetics of diabetes. Dr.Radha will be contributing to the genetic component of the NGHRU project.
Madras Diabetes Research Foundation, India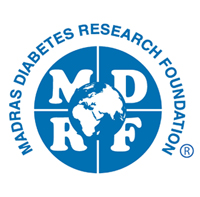 Madras Diabetes Research Foundation (MDRF), a unique 100% non-profit foundation, is an outstanding research centre established in 1996 in Chennai, South India. It is committed to research on diabetes and other non-communicable diseases utilizing the most advanced technology available. MDRF is designated as ICMR Centre for Advanced Research on diabetes and, a WHO collaborating Centre for Non-Communicable Disease, Prevention and Control. The foundation performs state-of-the-art clinical and biochemical techniques and computing skills making it one of the most advanced centers for diabetes research in Asia.