Dr. Menka Loomba is the Project Manager, Clinical Research at Max Healthcare. Menka has done B.D.S and MPH from Punjab University, Chandigarh, India. Before starting her work as a public health researcher, Menka spent 2 years as a dental surgeon for a multi-speciality clinic in Chandigarh. After a successful career as a clinician she did her master's in Public health (MPH) and has experience of over 4 years in handling public health research projects.
She has worked as a demonstrator and public health researcher with PGIMER, Chandigarh and a non-government organisation in India on projects like supportive supervision of community health workers, effectiveness of a community based randomized control trial for prevention and control of oral diseases among 0-6 year old children, burden of food insecurity among urban slum dwellers of Delhi, Screening of Non-communicable diseases and Slum profiling.
Within the GHRU, Menka is managing operations in the North India team. She is leading the Surveillance and Environmental mapping projects.
Menka's research interests comprise of epidemiological research on non-communicable diseases, urban slum health, Oral Health, Menstrual Hygiene and Mental Health.
Max Healthcare, India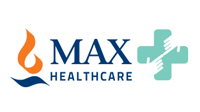 Max Healthcare, delivers international class healthcare with a total service focus, by creating an institution committed to the highest standards of medical and service excellence, patient care, scientific knowledge, and medical research. Max Super Speciality Hospital, Saket (a Unit of Devki Devi foundation) is one of the premier names in the healthcare world. Max Healthcare is a network of 15 hospitals in India with over 2300 beds that offer treatment across 29 specialties such as Cardiology, Oncology, Neurosciences, Endocrinology, Diabetes and Metabolism, Obstetrics and Gynaecology.".